Bernadette BRUNE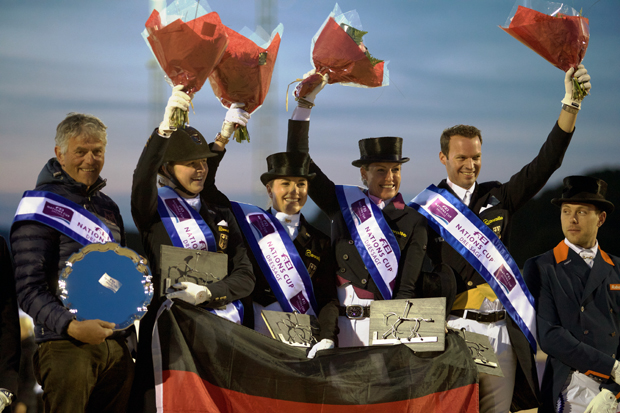 Results 2015
CDI-W Stuttgart - Germany - November 2015
CDI-W GP for Freestyle - 12th with Spirit of the Age OLD (72,825%)
CDI4* GP - 10th with Spirit of the Age OLD (71,080%)
CDI4* Oldenburg - Germany - November 2015
CDI4* GP Special - 6th with Spirit of the Age OLD (68,196%)
CDI4* GP - 11th with Spirit of the Age OLD (66,900%)
CDI-W Lyon - France - October 2015
CDI-W GP for Freestyle - 9th with Spirit of the Age OLD (70,240%)
CDI-W GP - 9th with Spirit of the Age OLD (72,075%)
CDI3* Saumur - France - September 2015
CDI3* GP for Freestyle - 4th with Spirit of the Age OLD (74,175%)
CDI3* GP - 3rd with Spirit of the Age OLD (69,80%)
CDI4* Perl - Germany - September 2015
CDI4* GP Special - 10th with Spirit of the Age OLD (70,137%)
CDI4* GP - 12th with Spirit of the Age OLD (70.20%)
CDI4* Cappeln - Germany - July 2015
CDI4* GP for Freestyle - 1st with Spirit of the Age OLD (70,06%)
CDI4* GP Freestyle - 2nd with Spirit of the Age OLD (73,05%)
German Championship Balve - Germany - June 2015
GP Special - 14th with Spirit of the Age OLD (70,098%)
CDI4* Wiesbaden - Germany - May 2015
CDI4* GP Special - 8th with Spirit of the Age OLD (71,36%)
CDI4* GP - 11th with Spirit of the Age OLD (70,74%)
CDI4* Hamburg - Germany - May 2015
CDI4* GP Freestyle - 4th with Spirit of the Age OLD (71,42%)
CDI4* Hagen - Germany - April 2015
CDI4* GP Consalation - 3rd with Spirit of the Age OLD (69,78%)
CDI4* GP Consolation - 6th with Valeron (67,70%)
CDI3* Nice - France - April 2015
CDI3* GPS - 2nd with Valeron (66,53%)
CDI3* Intermediate I - 1st with Kasimir TSF (69,55%)
CDI5* Vidauban - France - March 2015
CDI5* WDM GP - 6th with Spirit of the Age OLD (68,460%)
CDI5* WDM GP Freestyle - 3rd with Spirit of the Age OLD (73,575%)
CDIO3* / CDI3* Vidauban – France - March 2015
CDIO3* GP - 3rd with Spirit of the Age OLD (69,340%)
CDIO3* GPS - 4th with Spirit of the Age OLD (70,804%) and 1st place in team
CDI3* GPS - 3rd with Valeron (69,196%)
Like many riders Bernadette has been passionate about horses all her life. She became a riding instructor when she was 22 at a dressage stables in Dusseldorf, before coming back to France. She started her competitive career in show jumping and participated in numerous international competitions until 2007 with, among others, Amour du Vicomte and Call me Future.

In February 2006 Bernadette created the Domaine Equestre des Grands Pins offering high quality equestrian infrastructures in a natural environment, far from the madding crowd. She successfully migrated from show jumping to dressage in 2008 with the help of some of the best dressage riders : Anky Von Grunsven, Jan Bemelmans, Ulf Möller and currently Udo Lange. Since then she has won and been placed in many national and international competitions.

Always looking for a new challenge, in October 2012 Bernadette launched EQUIVIDA Horse Balance, a brand of natural horse cosmetics. This range of care products has been specifically conceived for the health and beauty of all horses. Each product works in harmony with the natural regulation mechanisms of the skin, coat and hooves and the range is preservative, silicone and paraffin free.